THIS IS EUROPE, LET US WALK YOU THROUGH THE FRONT DOOR
HYPERCONNECT
Our Challenge
TRANSLATION IS THE KEY TO EUROPE'S MARKET
As part of their internationalization strategy, Hyperconnect requested Beluga's advice as consultants, seeking to review and assess the quality of the translations done in-house to date.
Hyperconnect sensed that their processes were not optimal and that this was affecting the quality of their localized products. Beluga confirmed their suspicions and stepped forward, providing human and technical resources not only to advise but to design and effectively implement a new and improved localization process.
By using linguistic quality assurance tools to analyze the materials methodically and to offer a structured and unbiased report. Then, proceeded with the translation of the existing materials from scratch, proving the efficiency of the new and optimized workflow.
CONNECTED ALL AROUND THE WORLD
Now also in charge of both Azar and Hakuna apps daily updates, Beluga coordinates a team of more than 30 people across time zones, all while meeting tight deadlines and maintaining the highest quality standards that are the base of our excellence.
TACKLING UPDATES IN AN AGILE ENVIRONMENT
Successfully putting together a dedicated team through a meticulous selection process is Beluga's trademark, so once we did, the project was ready to kick off.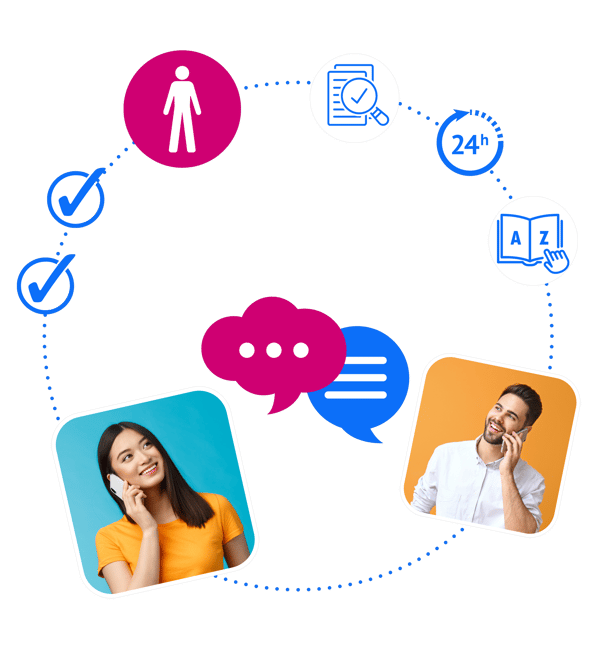 WELL, THAT WAS FAST
Translators and reviewers were paired by target language, and their commitment and availability all through this long-term project enabled our timely deliveries within 24h from request.
GLOSSARY AND COHESION
In close collaboration with Hyperconnect, we created a multilingual glossary that assured the cohesion of all translated materials.
OH SO SMOOTH
Lastly, our strong project manager team proved that with
good planification
and
fluid communication, daily updates
can get translated smoothly and hassle free.
OUR SOLUTION
THE THREE PILLARS OF QUALITY SOFTWARE LOCALIZATION
01.
Maintaining terms consistency to facilitate the user experience.
02.
Implementing UI terms adapted and familiar to the local market and target audience.
03.
Design strong processes early on to guarantee the scalability of the project.
OUR RESULTS
MORE THAN WORDS
Since we started working with Hyperconnect back in 2020 to the second quarter 2022 we have translated more than 10 million words.
Azar and Hakuna have been deployed in Europe localized and kept up to date in Arabic, French, German, Italian, Swedish, Turkish, Spanish (Spain), Japanese, Hindi, Indonesian, Traditional Chinese, Thai, Simplified Chinese, Azerbaijani, Dutch, Russian, Vietnamese, Norwegian, Danish, Finish.
We are proud Hyperconnect trusted us to guide them through their European journey, and we celebrate they achieved their internationalization goals.
SOME THOUGHTS FROM THE TEAM
"The quality, flexibility, and professionalism of the whole team have made them the perfect partner for achieving international growth. They are not only able to meet tight deadlines and deliver quality content, but their language experts also understand our overall identity and tone of voice, which makes the translations fit seamlessly."
"The main challenge with this project is the daily updates which are particularly demanding in terms of fast turnaround for all 15 languages for translation and proofreading.
We keep straightforward and quick communication with all the parts, which is essential to meet Hyperconnect's daily expectations and successfully deliver everyday tasks."
"Working on the Hyperconnect project is always challenging. First, because we often must transcreate the content for the app, then we work with character limitations, and we do not have so much context. That is why communication with the project manager is essential."
PARTNER UP WITH A WELCOMING LOCAL SO YOUR PRODUCT CAN MAKE AN ENTRANCE!
THE CLIENT
ABOUT HYPERCONNECT
Hyperconnect develops video and AI-powered social discovery products that create an exciting and engaging experience for users, all while ensuring the highest standards of community safety.
Based in Seoul and expanding globally, Hyperconnect offers to battle loneliness by connecting people through shared interests and creating enjoyment across borders and around the world. 
Their flagship product, Azar, revolutionizes the way people make new friends and experience new cultures through a machine learning-powered 1-to-1 video chat interface.
Their latest hit product, Hakuna Live, is a social live streaming service with a "Multi Guest Mode" function that allows up to four people to broadcast together.